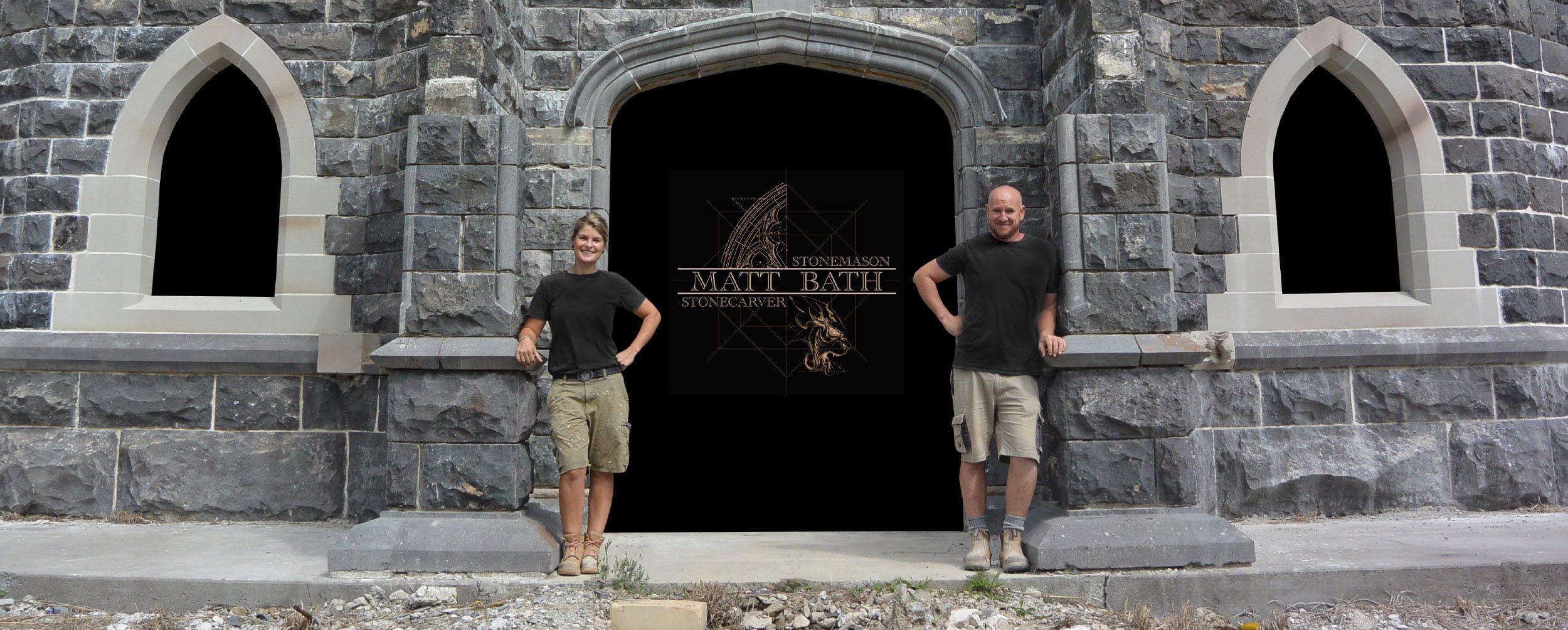 Matt Bath
Stonemason / Sculptor
Are you looking for stonemasons who are dedicated to quality and authenticity? Do you want to work with craftspeople who are driven to make your vision a reality?
We have the combined experience, knowledge and dedication to take your project to the next level. Whether you are looking to create a beautiful feature wall, architectural carving or stunning sculpture, we can help. With a passion for traditional stonemasonry and extensive experience – including architectural carving, construction and cladding (and building a castle!), we are highly skilled and committed to quality.
Services include, but are not limited to:
Stonemasonry: solid construction, cladding and fireplaces.
Stone carving: baths and vanities, sculptures and gargoyles and architectural details
We pride ourselves on offering complete customer care, beginning with the initial design consultation through to delivery. With our database of contacts in the stone supply industry, we can help you to source the right materials, including Australian sandstone, granite and marble, and ensure you are 100 percent satisfied with both the building process and the finished product.
Please contact us with your ideas – we'd love to hear from you!
Matt Bath
Traditional Stonemason
Working on some of the most significant stone buildings in Sydney, Matt developed his skills to a very high standard as he focused on replacing and reproducing architectural carvings.
About Matt
Matt grew up in Sydney and completed his apprenticeship with one of the city's leading heritage restoration firms in 2000. Through this work, Matt developed a passion for stone carving and sculpture, winning numerous awards during his apprenticeship. In his final year of study, Matt was awarded Stonemason apprentice of the year and the Rotary 'Pride of Workmanship' award.
After finishing his apprenticeship, Matt travelled around Australia and settled in south east Queensland, where he worked on heritage restoration jobs and prestige homes on the Gold Coast, custom carving and building in stone. Many of these projects were well publicised in newspapers, home magazines, TV news and prestige home television programs. During this time, Matt also exhibited works in sculpture festivals on the Gold Coast and South West Rocks. 
Matt moved to the Mid North Coast and established his business locally in 2009. During this time, he learned of a local man who planned to build a medieval castle in nearby Old Bar. After tracking the man down and assisting him to fine-tune his ideas, Matt swiftly found himself with a "stonemason's dream job", creating an authentic medieval castle from blue stone that had been sitting on the Wallaby Point property for 20 years. Matt had almost finished the first floor of the castle when Marina, a stonemason from Germany, joined him in 2016.
"Marina and I are both obsessed with quality," he says. "If it's not perfect, we're happy to stay for an extra hour to take a stone out and put a new one it. We love to take our client's vision and make it real."
Since then the dynamic pair have been working on the castle between commissions. Matt's passion for the craft of stonemasonry has only grown over the years and he loves the versatility and challenge of his work.
When he's not working, Matt enjoys spending time with his three kids and getting out into nature.
Marina Schiewer
Traditional Stonemason
Marina grew up surrounded by castles and cathedrals in her home town of Hilden, Germany. A love for stone and a penchant for working with her hands led Marina to embark a stonemasonry apprenticeship with a stonemasonry company in Solingen / Hochdahl.
About Marina
She graduated in 2007 as the only female in her class. After falling in love with the craft, Marina went on to complete her 'Technikerin' monumental historical buildings in 2010, she was awarded best stonemason in her state. She was lucky enough to land a job restoring some of Germany's historical banks and churches.
A stint of backpacking in 2016 led Marina to Australia. Looking for work, she googled, 'stonemasons Australia', found Matt Bath, and travelled up to the Manning Valley from Melbourne to help him construct the castle. Marina's strength, hardworking nature and knowledge impressed Matt, and they soon become partners in life and work.
"When a client shows me a picture of what they want, I say, 'let's make it look exactly like that,'" she says. "It's their passion, their baby. I like to involve them every step of the way."
Inspired by the ancient stonemasons of medieval Germany, Marina is passionate about her craft and loves using traditional tools. She is also a perfectionist who enjoys the challenge of taking a client's idea and turning it into a finished product – leaving no stone out of place.
In her downtime, Marina loves to play guitar, read books and explore the bush and beach near the couple's home in Wallabi Point.